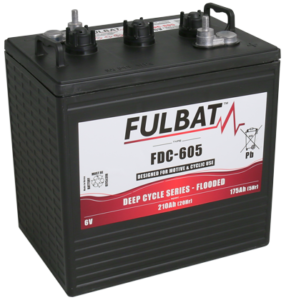 FEATURES
FDC-605
is a part of our FDC – Deep Cycle Series. Specially designed for small traction applications, this 6V 210Ah battery offers low self-discharge and ensures a long service life with high resistance to cycles thanks to reinforced grid plates.
With specific terminals and resistant battery case,

FDC-605 battery will offer a maximum vibration resistance for all industrial or leisure use.
SPECIFICATIONS
Terminal:

Dimensions:
Length 259 mm
Width 179 mm
Height 245 mm
APPLICATIONS
DOWNLOAD